Introduction
The Navigation Policy allows you to establish the completion order for training material within a course. As the Superadmin, you can sequence your learning objects and lock them, so they cannot be accessed until a user has completed the previous training material that you've assigned them. Once you have created a course and added the training material, you can then set the navigation policy.
Setting the Navigation Policy
Begin by accessing the Admin Menu from the gear icon in the top right corner of the page, then press the Course Management subitem in the E-Learning section. Once you're on the Course Management page, find the course in the list for which you would like to manage the navigation policy.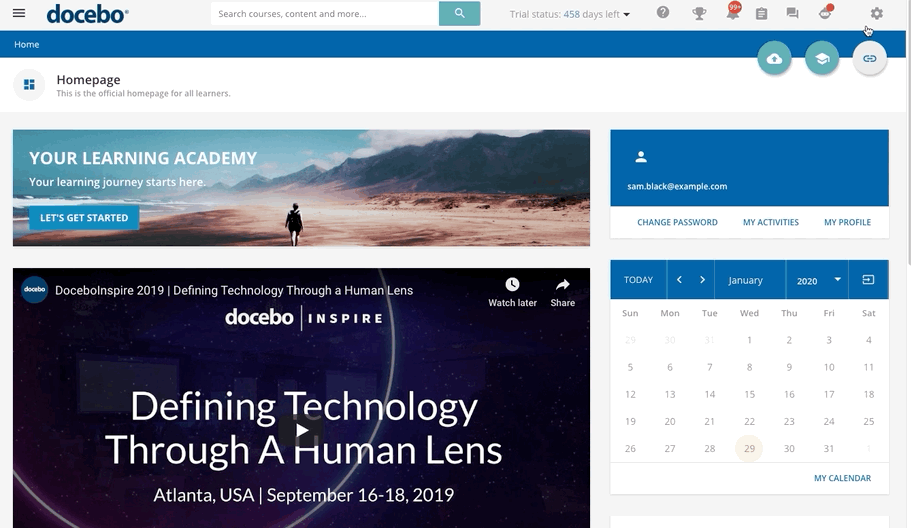 Click on the course description and, once in the course area, move to the Advanced Properties tab, then to the Details tab. In the Navigation Policy section, select which policy you want to apply to your course, then press Save Changes.
Free Navigation. All training material is unlocked, which means that learners can pick the training material in their preferred order.
Sequential Navigation. Learners have to complete and pass the training material in an order that you've established in the Training Materials page for the course. Learners must complete and pass an item in order to unlock the next one in the course.
Final Learning Object Locked. The course will be marked as completed when a learner passes the final learning object at the end of the course. If you choose this navigation policy, the last object will be locked, and all of the previous learning objects will be unlocked and free to access in the preferred order of the user. The final learning object will remain locked until all previous materials have been completed and passed. Please note that while the option is intended to be used with a test learning object, any final object will be considered the "test" and therefore locked.
Completion of the first mandatory learning object. Learners can access the training materials of the course only after they have completed and passed the first learning object in the list. They will be then able to view the other learning objects either in their preferred order or in the sequential order set for the course.
Refer to this article for further information on training material settings and prerequisites.