Introduction
Once your new Shape has been created, and you have finished editing your project customizing the Shape to best fit your needs, you are ready to publish your learning content pill, and to share it with other people.
This article is a guide on how to publish and then share your Shape.
Publishing Your Shape
To publish your Shape, access the editor by clicking on the card of your Shape from the homepage, then press the Publish button in the top right corner of the editor page.
Provide a short description for your learning pill, then confirm your action with the Publish button. Congratulations, your Shape has been published!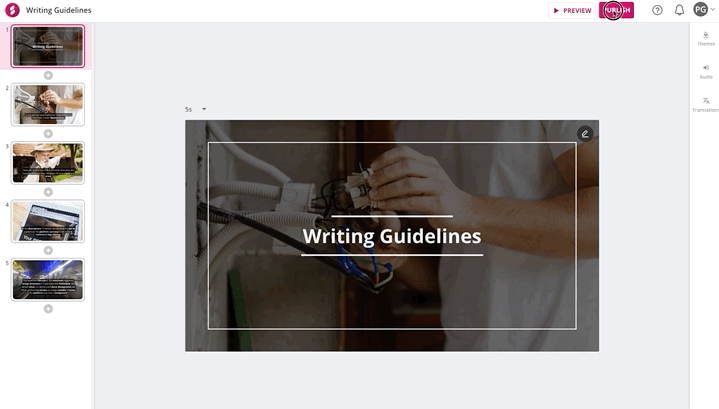 If you want to show information about the content (such as title and duration of the video) over the player, flag the corresponding option, then press Next to proceed. Now it's time to share your creation!
Sharing Your Shape
You can share your Shape from the modal that opens after the publication, or by pressing the Share button in the top right corner of the editor page.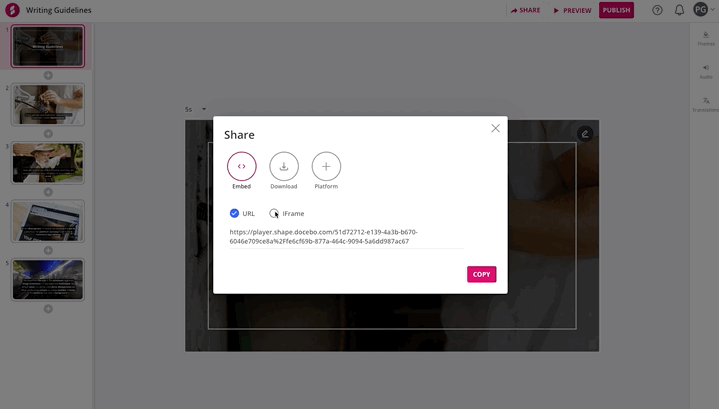 You can choose among three different sharing options:
Embed.

Select this icon to be provided with the project's URL, or the embed code to insert as an iframe into an external webpage. Press

Copy

to copy the link or the code to the clipboard, so that you can easily paste it where you need.

Download.

Select this icon and press

Download

. A Tin Can package will be downloaded to your device.

Learning Platform Integration. You will be able to choose this sharing option only if your Admin has integrated Shape with a learning platform.

Select this icon to upload your content to the learning platform your Shape Admin has integrated with Shape.

The content is automatically added to the Central Repository of the platform, where all of the training materials are gathered in one place.

Please note that you can perform this action only if you are an Admin in the learning platform integrated with Shape.

Press

Share

, then provide your username and password for the learning platform and authorize Shape to access your learning platform account and publish the content.
Managing Versioning
With Shape, you can distribute different versions of the same content, maintaining control of each version.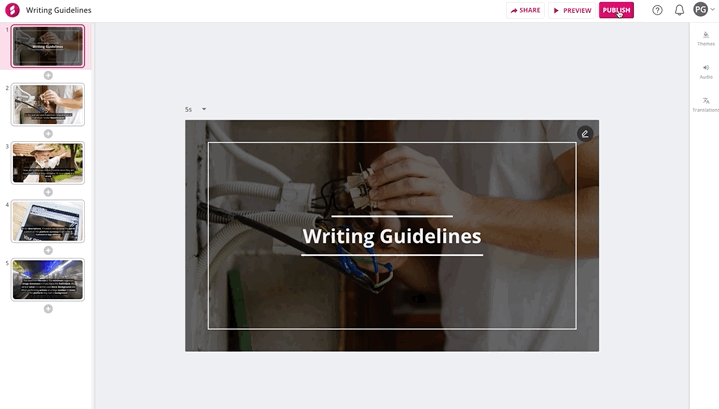 If you need to update a Shape you have already published, once you have finished editing it, when you click on the Publish button to publish the updated Shape, you will be asked if you want to create a new version, or if you want to override the current version.