Introduction
Depending on your platform settings, you may be asked to identify your skills on the basis of your job role, and to carry out a self-assessment on them. Take some time to select your skills and to self-assess them, so that your platform will then help you in filling your gaps and deepen your knowledge on the areas you are already familiar with.
Once you have identified and self-evaluated your skills, your platform then will then populate the My Skills channel with different types of content, depending on how the platform Admin set up the platform:
formal courses associated with the skills you have identified for yourself

assets and contributions loaded by other users and associated to the skills you have identified

fresh aggregated content from around the world related to your skills
Identifying and Self-Assessing Your Skills
Every time the Admin of your platform assigns you to a set of skills, upon logging in you will see a pop-up informing you that you can select your skills out of the set, and perform a self-evaluation on them. You may see the pop-up several times, depending on when your Admin activates new sets of skills, and associate them to you.
Click Start Configuring if you want to take some time for this activity, or Not Now to postpone it. There is no time limitation for this activity, but we suggest you start your upskilling process as soon as possible.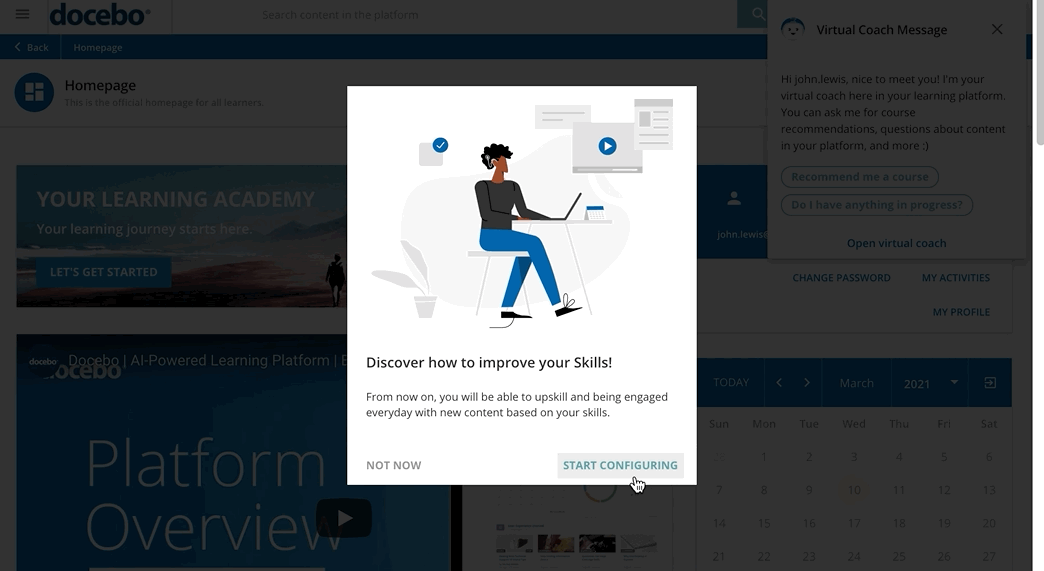 After clicking Start Configuring, the skills selection process will ask you to identify your role in the company, so that the platform will propose you the skills in line with your position. Start typing your job description, select one of the available options proposed by the autocomplete function and press Next to proceed.
Select now up to 10 skills among those suggested. Depending on the platform configuration, you may have the possibility to look for other skills manually. Press Next and self-evaluate yourself on the skills you have selected. When done, click on Save to complete the process.
You can change the selection of your skills at any time by accessing the My Profile area of your platform from your main menu and moving to the Skills section.
The My Skills Channel
Once you have completed your self-assessment, you will be automatically redirected to the main page of the My Skills channel, already populated with content related to the skills you have selected.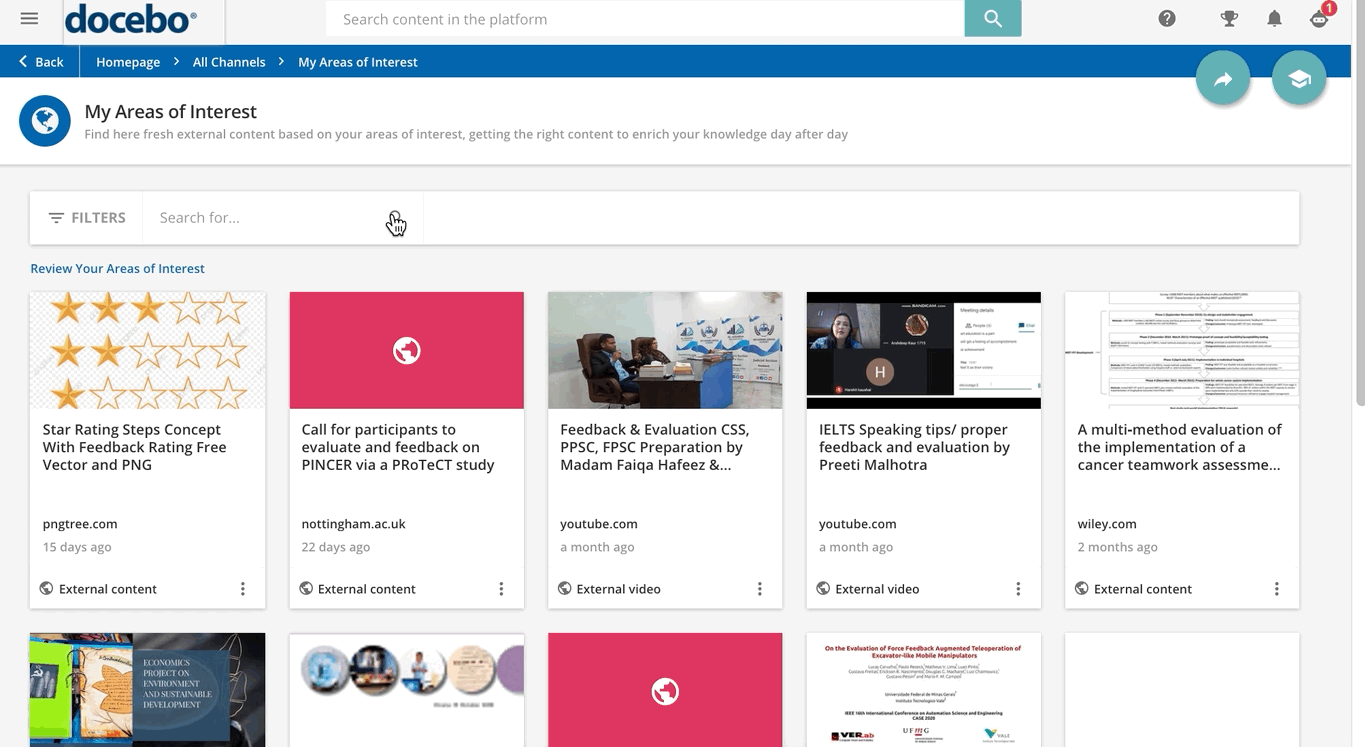 Use the Filters panel to filter the displayed content according to one or more of your skills or to the content publication period. You can reach this channel at any time either from the main menu, either from the All Channels page or from the My Skills page.
You can manage the content of the My Skills channel as you do for any other channel. Find out more on how to manage channels and their content.