Introduction
Once you've enabled the option that your platform users must accept the privacy policy, and you've created and configured the policy, you can then view the Privacy Policy Dashboard in your platform's Reports area to view graphs and statistics relating to how your users have interacted with the privacy policy. This article outlines how to view and navigate your way around the dashboard.
Accessing the Dashboard
To view the Privacy Policy Dashboard, log into your platform as the Superadmin, then access the
Admin Menu
from the
gear icon
from the top right corner. In the Admin Menu, select the
Reports
item in the
E-Learning
section. On the reports page, find the
Privacy Policy Dashboard
section, then press the
View
button. You will then be redirected to the Privacy Policy Dashboard.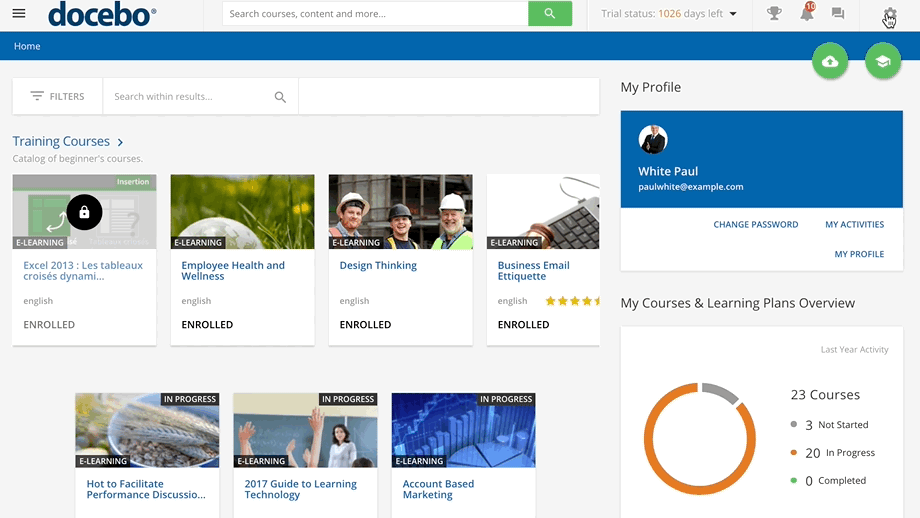 Overview of the Dashboard
When viewing the dashboard, you will be various sections displaying information referring to the answers given by your users to the privacy policy to which they've been assigned. The dashboard is divided into three main areas: Privacy Policy Overview, Privacy Policy Agreement Timing, and Users. Refer to the corresponding sections below to learn about each area. In the top left corner of the report, you'll see two icons: A
folder icon
and a
filters icon
. By pressing the
folder icon
, you can then select a branch for which you want to display the data in the dashboard. Once you select a branch, the dashboard will automatically reload, and each section will display data and information calculated by only using the users included in that branch and any sub-folders within that branch. If you've set up different privacy policies for different subdomains that are assigned to your branches using the
Extended Enterprise app
, this dashboard will show you results for all branches assigned to all subdomains by default. You should select a domain to view in the dashboard using the
folder icon
in order to view the dashboard for a specific subdomain assigned to that branch.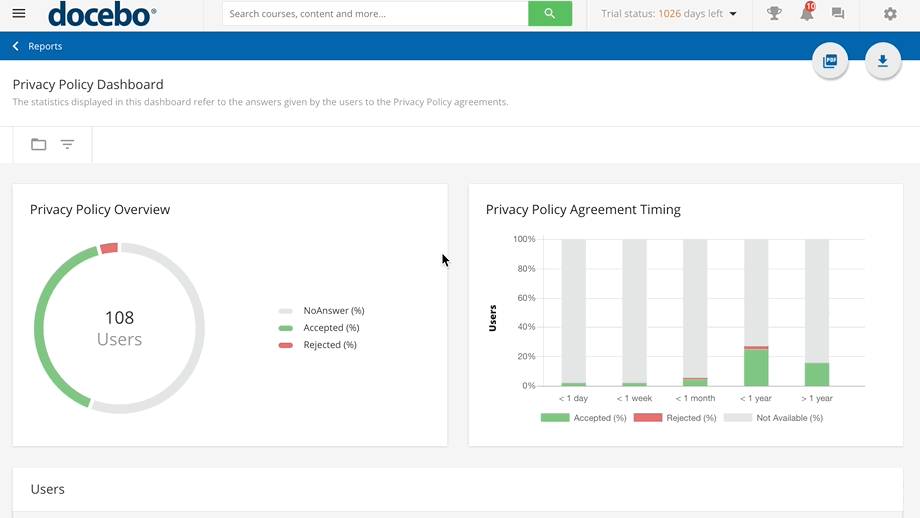 By pressing the
filters item
, you can select a few filtering options for the dashboard. In the
Quick Filters
tab of the slideout panel, flag whether you want to view data related to all versions of the privacy policy, or just the most recent version of the privacy policy. Then, flag whether you want to hide deactivated users from this dashboard, meaning that the data in each section will be recalculated to only include active platform users. In the
Advanced Filters
tab on the slideout panel, press the Add Filter button to add a filter. You can add the following advanced filters: privacy policy name, version or acceptance status. Once you've added filters, the dashboard will automatically refresh using the applied filters. To download a PDF of the dashboard, press the
PDF button
in the top right corner of the report. Alternatively, press the arrow icon next to it to download a CSV file of the report. Once you press the arrow icon, select an option below: export all fields of the dashboard via CSV, or just the currently visible fields displayed on the dashboard.
Privacy Policy Overview Section
This section displays the percentages of total users that have accepted, rejected, or not answered the most current privacy policy to which they've been assigned. The donut graph shows the total number of users calculated in the center. Hover your mouse over each section of the donut graph to view the total number of users that have accepted, rejected, or not answered the privacy policy.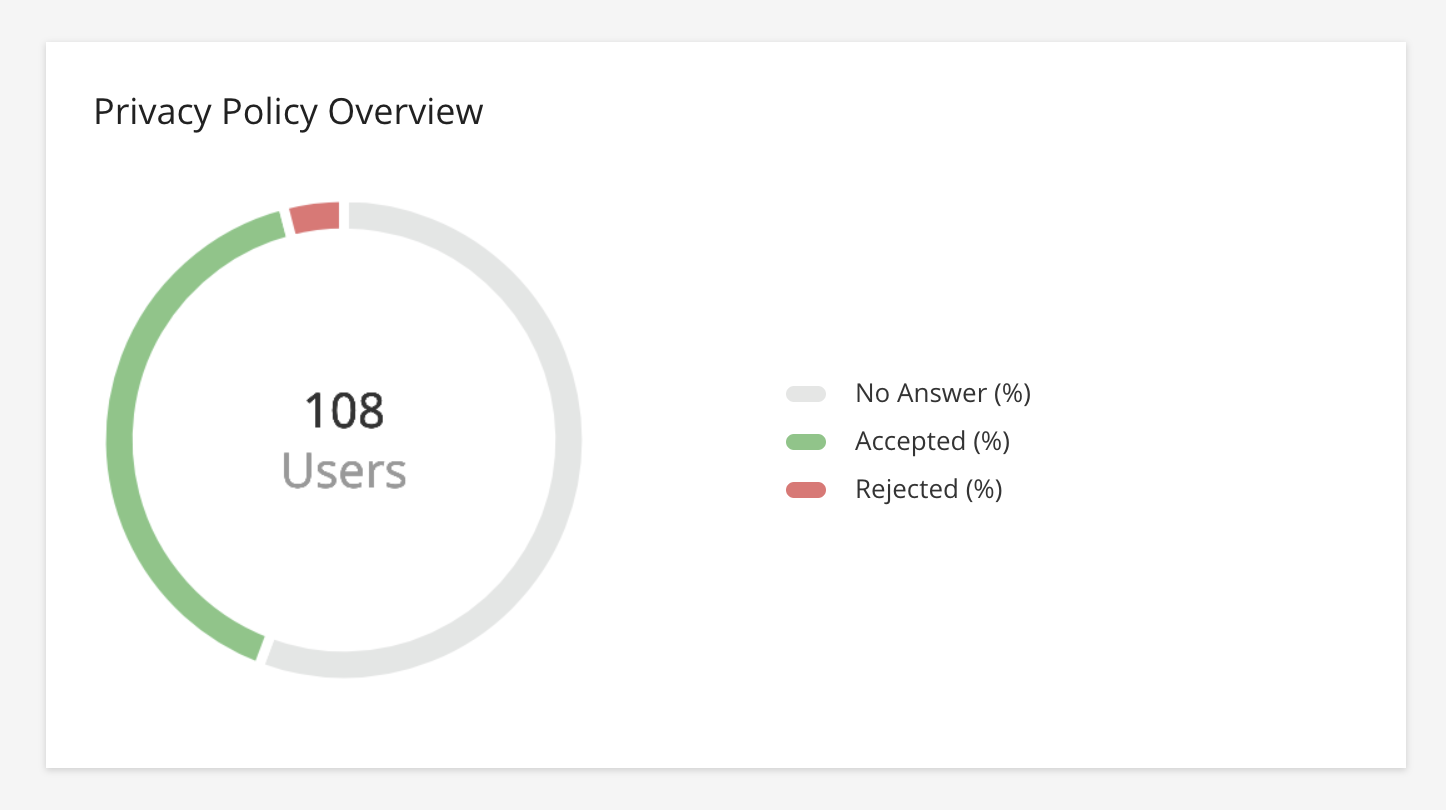 Privacy Policy Agreement Timing Section
This section displays a bar chart showing the percentage of users that accepted, not answered or rejected the latest version of the privacy policy to which they've been assigned in less than a day, a week, a month, a year or more than a year from the latest assignment. Hover your mouse over each section of each bar to see the total number of users calculated into the percentage. Users that have not yet answered the privacy policy are calculated into th
e Not Available
section of each bar in the graph.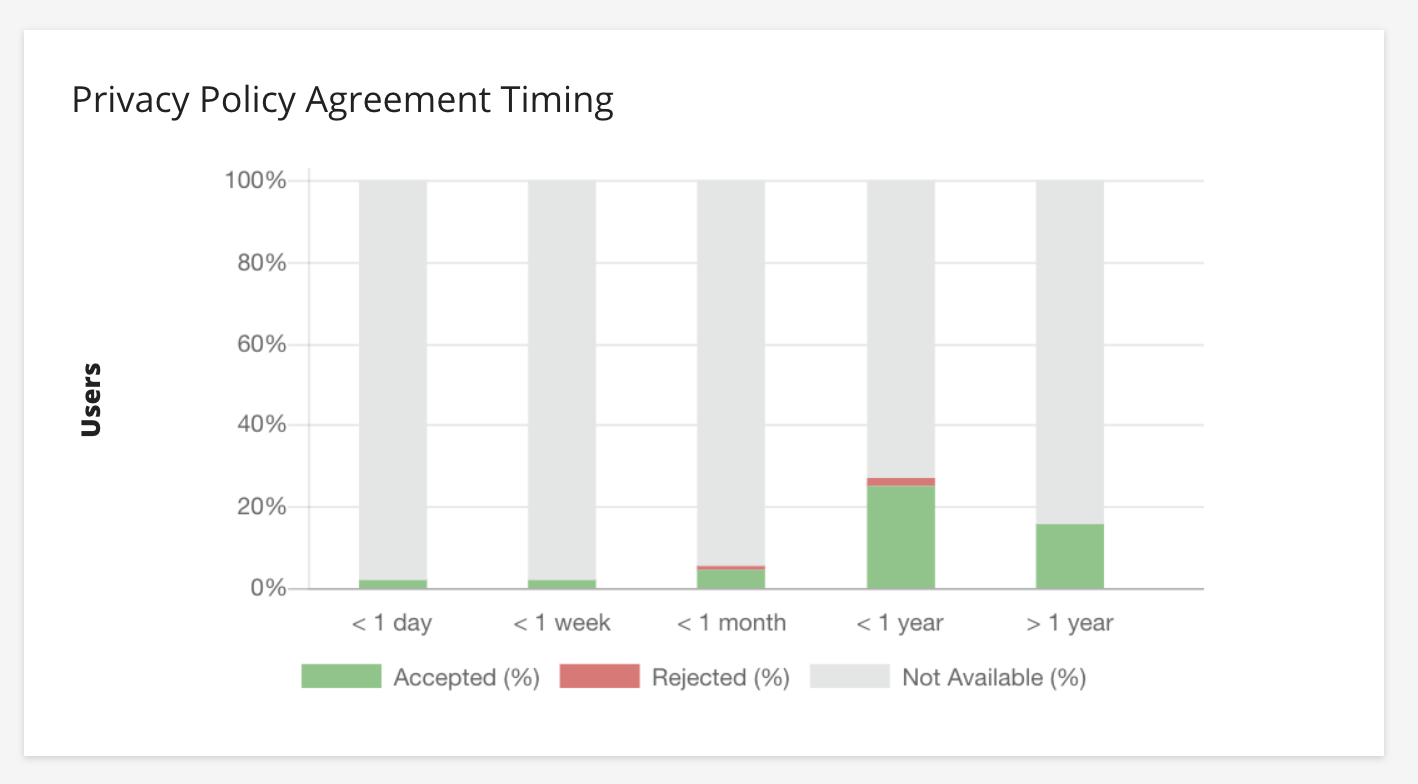 Users Section
In the
Users
section, you will see a list of every user that has been assigned a privacy policy. In each user's row, you will see the username, the name of the privacy policy to which they're assigned, the latest version of the policy that they've accepted and if this version is the most current version of that policy, their last login date, the name of the domain to which they belong (if you're using the
Extended Enterprise app)
, the acceptance status and the date in which they answered to the privacy policy.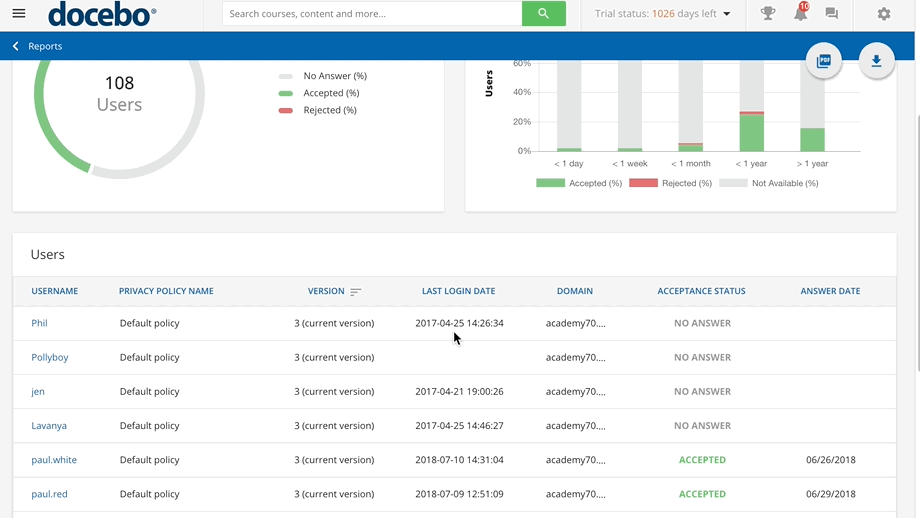 By pressing a
username
in the list, you will be redirected to a page displaying privacy policy information related to that specific user, including a list of all of the privacy policies to which he or she has been assigned over time and various data related to each policy. Press the
policy's title
to view more details related to how the user interacted with it. On the next page, you will see the full privacy policy that was presented to the user in the user's platform language. Below, you can see the user's answers to any acceptance messages or sub-policies related to the policy.