Introduction
Your learning platform uses cookies, which are text strings created by a server and stored on the hard disk of your computer or on any other device (smartphone, tablet) that you use to access the Internet before being retransmitted to subsequent access to the Internet.
Cookies allow your learning platform to collect information about user navigation, such as remembering language preferences or the currency used for a purchase, then use this information for the user's next visit to facilitate easier use of the platform.
Cookies may be stored permanently on your device and have a variable duration (called persistent cookies), or may disappear when the browser is closed and have a limited lifespan (called session cookies). Cookies may also be installed by the site you are visiting (called first-party cookies) or may be installed by other website (called third-party cookies). Your learning platform uses first-party cookies, third-party cookies and other similar cookies.
This article outlines how to edit and manage your platform's cookie policy. Find out more with general questions and answers about the cookie policy.
The cookie policy is always enabled and visible to all users by default. It cannot and should not be hidden from the platform's interface or removed by custom CSS. Also note that even if you as the Superadmin modify or remove the text of the cookie policy of your platform, you cannot disable the cookies themselves in your platform. It is your responsibility to make this clear for your learners.
Editing the Cookie Policy
Docebo provides your platform with the default cookie policy, which appears in the text editor where you manage the cookie policy in your platform as a Superadmin. The policy outlines the standard Docebo cookie policy, but please note that it is your responsibility as the Superadmin to outline any additional cookies that you're using in the platform for your learners in the policy.
Docebo's default cookie policy uses the word

Docebo

throughout the policy. If you're using the White Label feature or Extended Enterprise app, you will want to go into the policy editor as soon as possible and edit the text based on your business needs.
To edit the cookie policy for the first time, access the Admin Menu, then select the Cookie Policy item in the Settings section.
In the Settings tab, begin in the Cookie Policy Banner section to add the message that appears in the banner at the bottom of the platform for learners when they log in. This text can be no longer than 200 characters and should serve as a heads up for learners that the platform uses cookies. Please note that Docebo provides a banner message in English by default, but you can modify it as you see fit.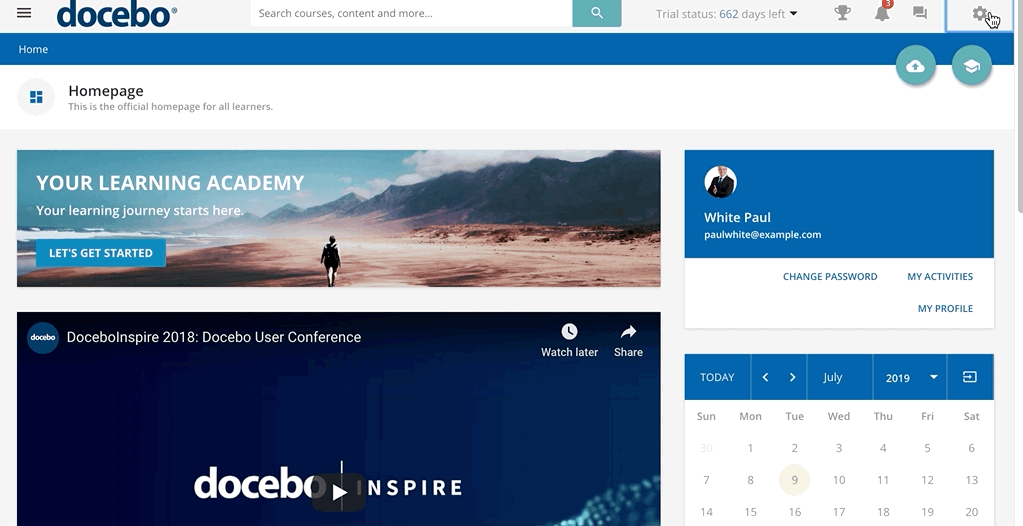 Then, move to the General Information section, and begin by creating the cookie policy in your platform's default language. Provide a policy title, a policy subtitle, and the text body of the policy. Again, Docebo provides default text in English by default, but you should modify it according to your needs.
In the text body, you can format and stylize the text as desired. Please note that the text editor embedded in the platform is Froala. Refer to the Froala Knowledge Base for further information on how to use it. Also remember that the rendering of the output of WYSIWYG editors may be slightly different from the input, depending on the CSS rules applied.
Once you've completed all of the required fields, you can press Save Changes to publish this version of the cookie policy for your users.
Creating the Cookie Policy in Multiple Languages
When editing your cookie policy, you can create the same version of the policy in multiple languages using the multi-language selector tool.
Please note that when you're creating or editing a policy in the platform's default language, the default language fields are mandatory. However, when adding content in a language that is not the default language, the fields are not mandatory. Therefore, if you do not populate a field in one of the additional languages, that field will appear to users in the default language instead of appearing blank.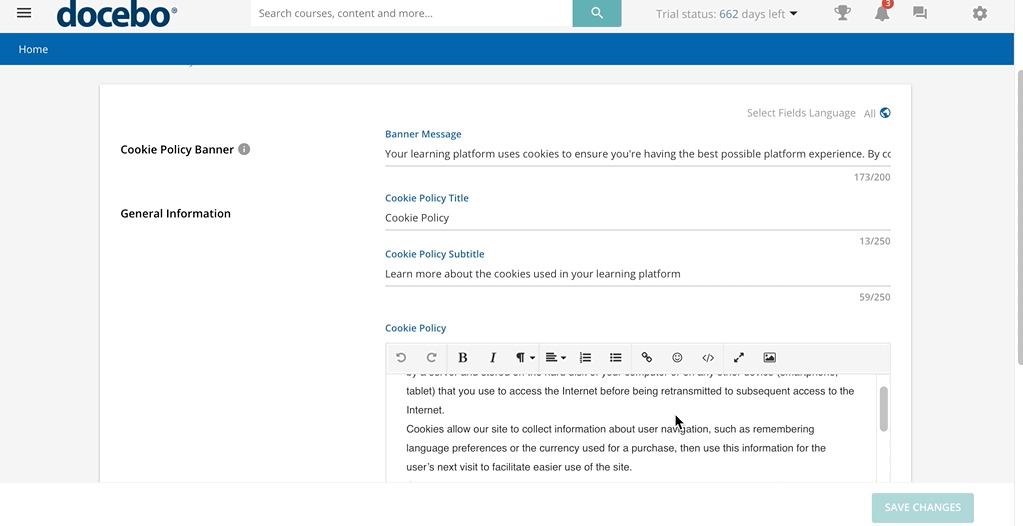 For example, if your default language is English, you must fill out every field of the cookie policy in English. If you then create the content of the same policy in French but you do not fill out the cookie policy subtitle in French, learners with their platforms set in French will see the cookie policy subtitle of their cookie policy in English.
Once you update any fields and press Save Changes, a new version is created for all languages. Therefore, when you are updating the cookie policy, be sure to update it in all necessary languages before pressing Save Changes.
Viewing the Cookie Policy for All Users
By default, when your users log into their platforms for the first time after July 2, 2019, a banner at the bottom of their homepage will appear, notifying them that their learning platform uses cookies. Additionally, there will be a link to the cookie policy that you create on your platform's login form on the sign-in page, as well as in each user's main menu.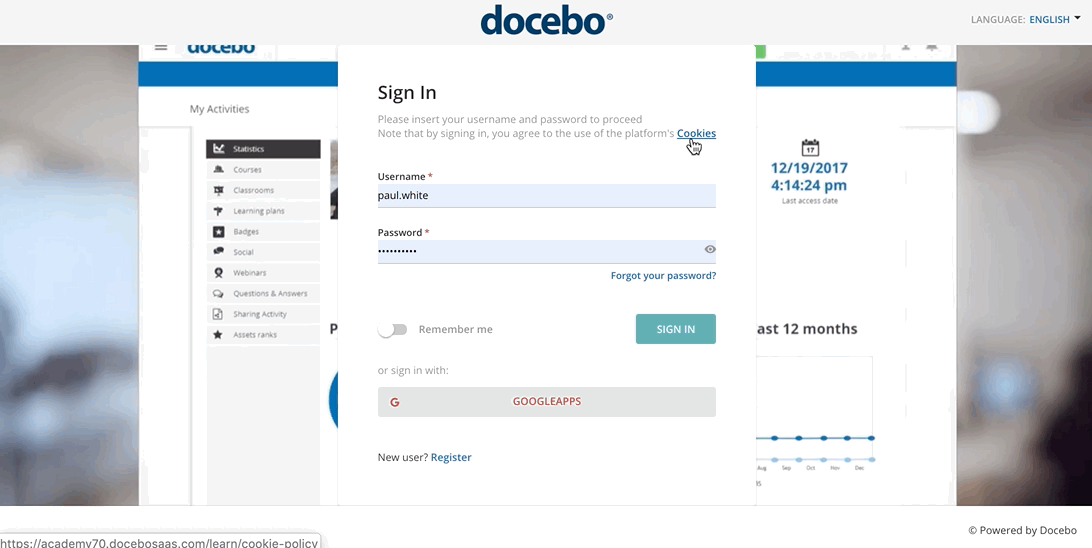 Your users do not need to accept or reject the cookie policy in order to access and use their learning platforms. They can press the GOT IT button in the banner to acknowledge the use of cookies in their platform, and the banner will no longer appear for them anymore. The banner will continue to appear until a user presses the GOT IT button in the banner.
Even if your users do not press the

GOT IT

button in the cookie banner, but they continue to use and navigate the platform as normal, they are acknowledging the use of cookies in their platform by default.
Once logged in, users can see more details related to the cookie policy from their profile area. Press the menu icon in the top left corner of the page, then press the Cookie Policy button at the bottom of the menu.
Enabling the Enhanced Cookies Management
As of November 24, 2020, Docebo has renewed the cookie policy management in order to improve compliance with the applicable regulations affecting cookies like the European ePrivacy directive. Find out more about Cookies, GDPR and the ePrivacy Directive.
This cookies management (called enhanced cookies management) has been developed as an option to the standard cookies management so that you, as a data controller, can decide whether to keep using the standard version or switch to the enhanced version.
The enhanced cookies management option is not enabled by default on platforms. Its activation must be requested to Docebo via the Communication Center by opening a ticket, or by contacting your Solution Deployment Manager, if in onboarding. Enabling the enhanced cookie management means resetting the current cookie policy text and the cookie list, and configuring it from scratch. Data will not be migrated upon activating the enhanced management method. With the enhanced cookies management, the cookies provided in Docebo platforms have been divided into:
Necessary Cookies: these cookies help in making the platform more usable by enabling basic functions like page navigation and access to secured areas. The platform cannot work properly without these cookies, and Docebo does not allow users to disable them. These cookies are not subject to user consent.
Statistic Cookies: these cookies help your platform to understand how users interact with it, by collecting anonymous data. These cookies are not mandatory for the proper functioning of the platform but are vital for the continuous improvement of the user experience.
When activating the enhanced cookies management, users will be asked to renew their consent to the cookie policy and to choose whether to give their consent only to the necessary cookies (that are exempted from consent) or to give the consent to the statistic ones too. Find out more about how to transition to the enhanced cookies management.