Introduction
One of the main challenges in building a strong learning evaluation strategy is that you have no points of reference or benchmark. This is why the Docebo Learning Impact reports include a unique Benchmark feature.
When you look at the results in a report, you will notice that a color code ranging from red to green has been applied to each row.
What Does the Color Code Mean?
The color code is a Benchmark. It allows you to make sense out of the results, quickly reach the right conclusions and pull trends that you cannot see by looking at the data alone.
Let's analyze the following report: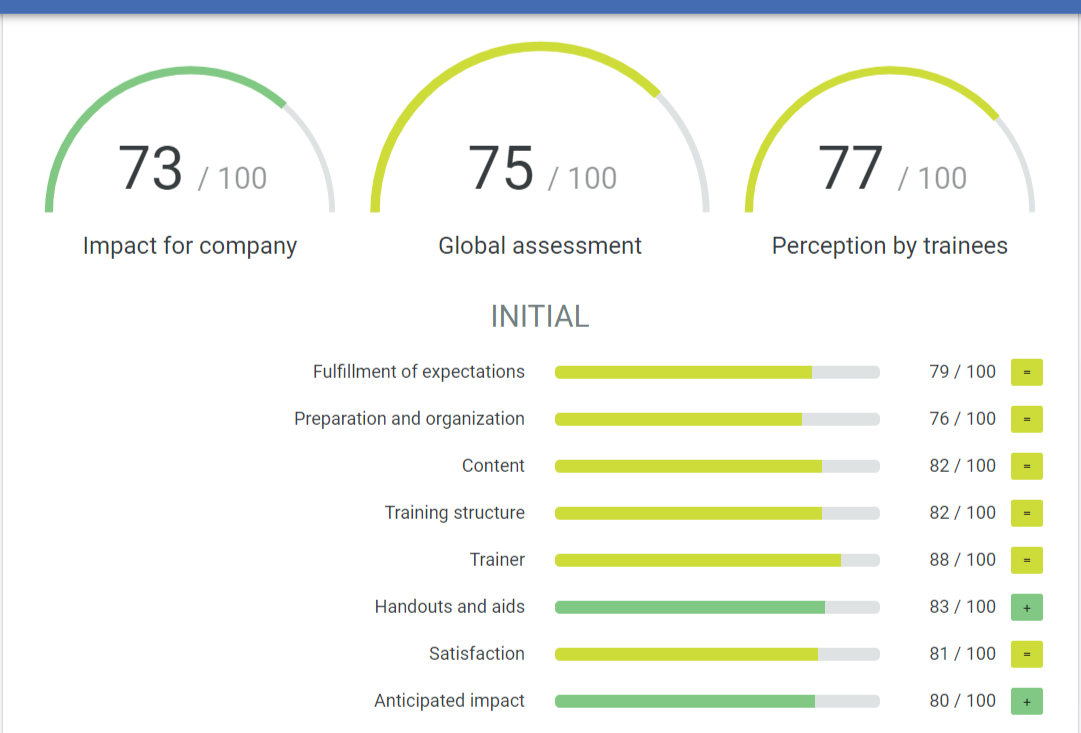 In this example, you can see a score of 88 for the item Trainer and a score of 83 for the item Handouts and Aids which can mislead you in your conclusions. Thanks to the benchmark color code, you'll find out that the item Handouts and Aids actually overperforms while the item Trainer is just average.
For accessibility reasons, you will find a symbol (from - to ++) at the top right end of each row indicating the color.
If you want to analyze the results of multiple sessions or multiple courses, you need to use the Consolidated Report. The Consolidated Report can be accessed both from Docebo Learn and from the Learning Impact external platform.
How is it Calculated?
The evaluation results are compared with results of other training courses with the same characteristics (same training field, same language, same country, same industry, same type of audience and same question asked). To do this, we draw on a database of 6 million evaluations already performed.
Benchmark Options
At any time, when reading a report, you have the option of disabling the Benchmark. To do so, go to the report header and press Hide benchmark.