Introduction
Docebo allows you to manage your company's training activities. Using several tools available in your platform, you can organize, manage, monitor and report all of your course activities. We know that using Docebo can be difficult if you're new to LMS systems. Perhaps you won't know where to begin, so we've created this brief manual to help you get started.
Activating Your Docebo Platform
You can activate a Free Trial for up to 14 days from this link. Choose a name for your platform, add your email address, create a password and press Start Your Free Trial.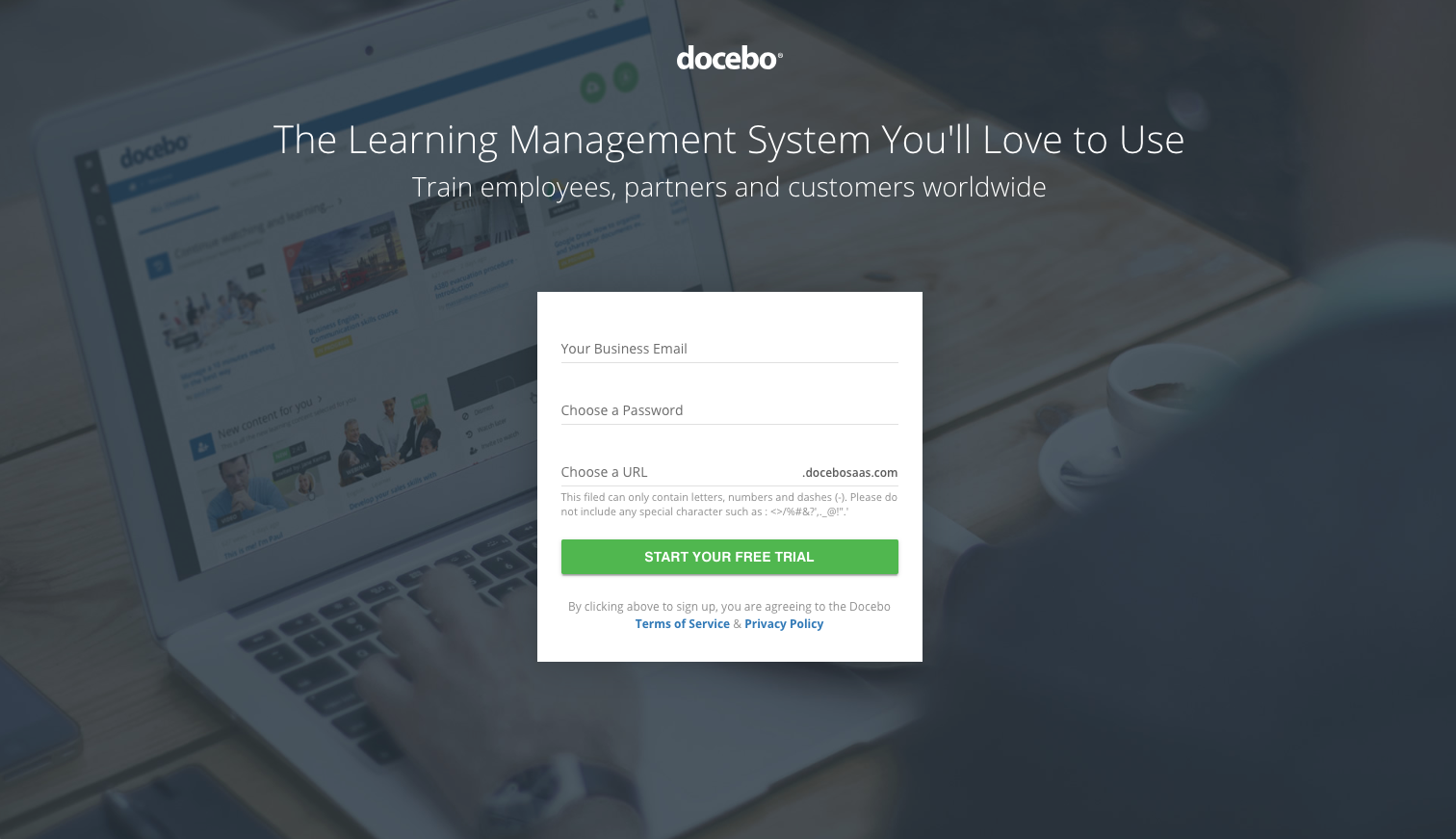 Customizing Your Platform
You can personalize your platform's layout by configuring various elements of the interface. To do so, access your Admin Menu from the gear icon in the top right corner of your homepage, then move to the Settings section and select the Configure Branding and Look. From here, you can personalize the platform header, the login page layout, colors, CSS, the course player and the layout of your thumbnails. Refer to this article for further information on how to use this area. You can completely rebrand your platform using the White Label app.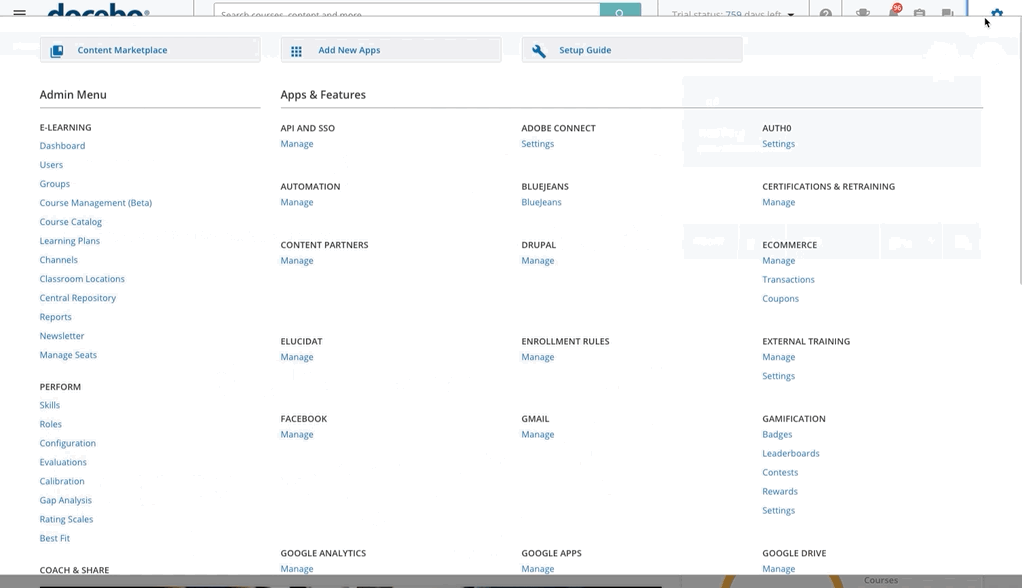 Registering Users
Start populating your platform by importing users. From the header, press the gear icon to reach the Admin Menu, then select the Users item in the E-Learning Section. You will be redirected to the Users Management page. Here, you can create new users to the platform and, later, manage previously-registered users. Remember: You can register as many users you want. However, they will only be considered Active Users when they access a learning object in a course for the first time or if they play at least one informal learning asset in the Coach & Share module during a given billing period.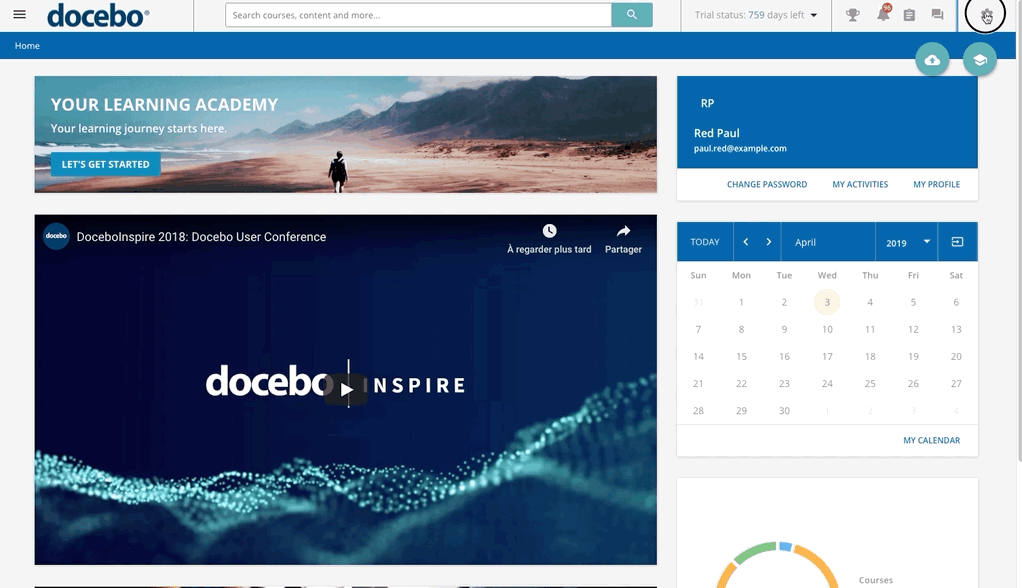 Here are some tips to manage your users in a simple and articulate way:
If you have a high number of users, organize them hierarchically using the organization chart. You can divide your users into branches according to their role or country. Please take into consideration that moving users from one branch to another must be done either manually or via APIs, so you may not want to create many branches and sub-branches.

Alternatively, you can create

groups of users

manually, or set up groups of users that are auto-populated based on user additional fields.
Create additional fields to enrich the user profile with information you may need, such as gender, identity code, country, birth date, or even uploading a file related to the user.
If you're needing to register a large number of users, create a CSV file containing the users' data and upload it to the platform. By registering users in bulk, the process is simplified.

Set up and manage teams in the platform. A

team

is a group of users managed by the same manager.

Managers get an at-a-glance view of their team's activities, such as items that are due, courses that need to be completed and potential learning content that may be beneficial for their team members.
To learn more about user management options, please refer to the User Management section of our Knowledge Base.
Creating Courses
Before adding training material into your platform and enrolling users into courses, you first need to create the courses. From the header, press the top right gear icon to reach the Admin Menu, then select the Courses Management item in the E-Learning Section. When you create a new course, remember the following:
The course name should simple and clear. Users should instantly understand the topic of the course upon reading the title.
You can choose a thumbnail image from the library, or you can upload a customized image from your device relating to the course topic. Try to create different thumbnails for each course, as to avoid redundancy by using the same image.
Write a description so your users will have a clear idea of what they will learn in each course. The description is very important if you want to sell your course later, as it will allow users to understand if your course is right for them.
The course code is not mandatory but could be useful if you have many courses, courses with long titles, or courses with similar topics. Assigning a code to a course will allow you to find your course in a quick way.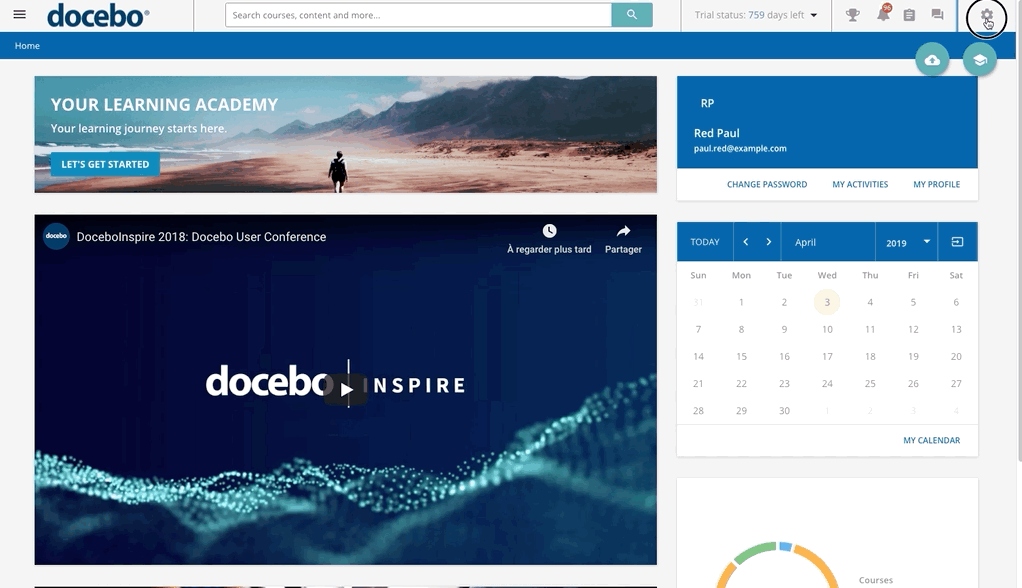 After you've created the course, add training materials and manage the course options. Press the menu icon at the end of the course's row on the main Course Management page, then select the option in which you are interested. Learn more about course creation and management from these articles.
Training Material
Once your courses are created, you can add training material for your users. Remember, you can choose different types of training material according to your needs:
- An AICC file uses the HTTP AICC Communication Protocol (HACP) to permit exchanges between course content and the LMS. Docebo supports the AICC Standard. Click here to learn more.
- An xAPI (TIN CAN) file is an E-learning software specification. This type of software allows learning content and learning systems to speak to each other in a manner that records all types of learning experiences. Learning experiences are recorded in a Learning Record Store, or LRS. Docebo supports the Tin Can Standard. Click here to learn more.
- A Video can only be seen online. Downloads are not possible. For this kind of learning object, you will know if users have seen it or not, but you can't know the time spent viewing it. Click here to learn more.
- A File can be uploaded by you and downloaded by users. You can upload different kinds of files: pdf, ppt, images, zip, doc, xls, etc.
- The Assignment objects are activities that instructors ask learners to complete by uploading (or link to) a video or a file; the instructors will then be able to evaluate these videos or files. Click here to learn more.
- The Slide Converter is a useful tool that allows you to upload a presentation from your computer (must be a PDF, PPT or Openoffice file) and turn it into a project to play online. Click here to learn more.
- Surveys and Tests are tools that allow you to create questions for users to answer. The difference between the two tools is that the Survey doesn't provide you with a final evaluation of individual users because the answers compiled in the system remain anonymous. On the other hand, creating a Test allows you to monitor the answers of each user and set a minimum score needed to pass each test.
Learn more about creating and managing training materials with these articles.
Course Layout
You can organize your course layout by adding Widgets: Course info, Course Description, Comments, File download area, Forum, Instructor(s), IFrame, Web Conferencing, Questions and Answers. All widgets are placed on the course page, so users will be able to easily find what they need.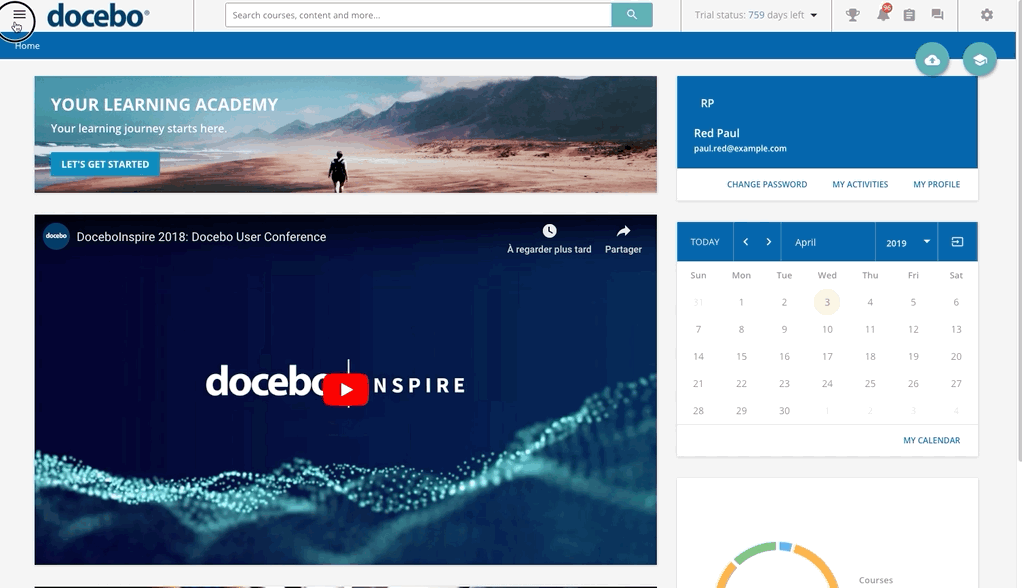 Enrolling Users into Courses
When the course is ready, you can enroll users. Remember: If you have previously organized your users with the organization chart or groups, you will be able to enroll several users at the same time.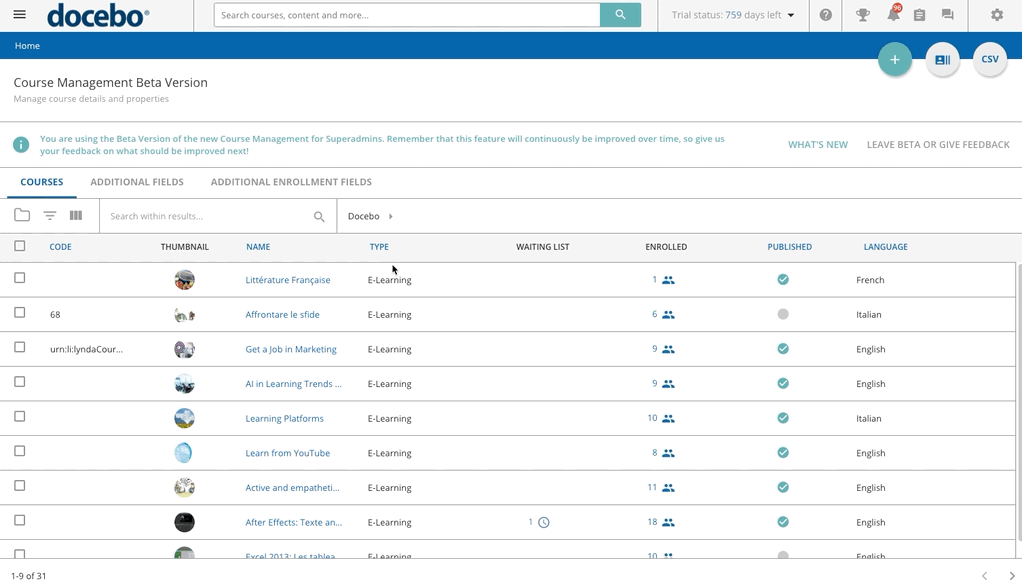 Creating Customized Pages and Menus for Your Users
By creating customized pages and menus, you can build your platform from scratch, then easily link pages to menus so that they are easily accessible for your users. You can create up to 1000 pages and 200 menus, then assign them to each kind of user you manage in the platform. From the header, press the top right gear icon to reach the Admin Menu, then select the Manage Pages and Manage Menus in the Settings area to start configuring pages and menus for your platform.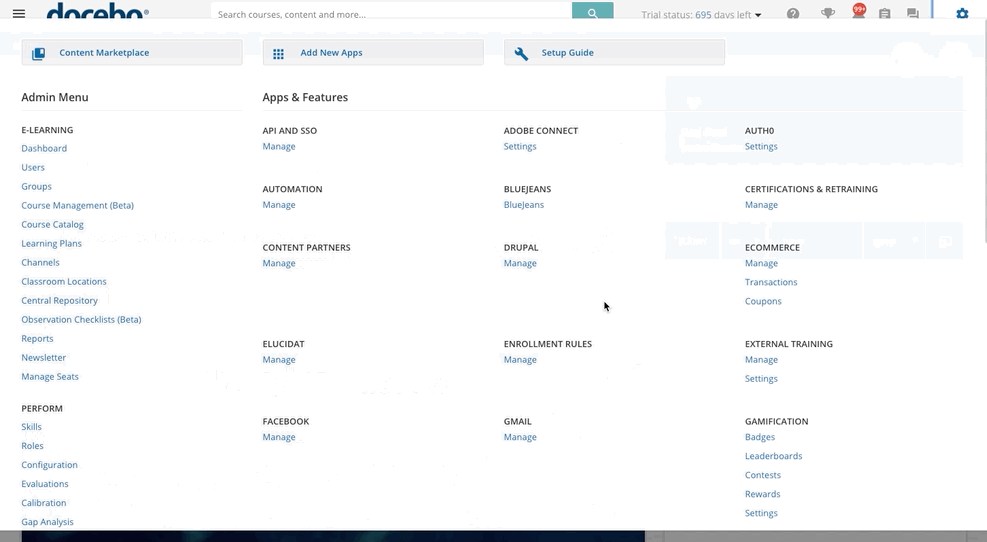 For example, you can customize a menu based on your organizational chart branches by building and assigning a different welcome page for each branch.You can also create pages and menus based on user levels: you can create a menu for the Superadmin, a menu for Power Users, and a menu for learners. Each menu can display different pages as per your needs.
Analyzing Activities
After you've provided your users with all of the information they need to access the platform and begin completing courses, you can analyze the activities made in your platform. In the Admin Menu, you will see the Reports item. In this area, you'll find all of the reports you can generate regarding statistics of users or courses. You can also create custom reports to analyze specific information. Reports are vital for online training, as they allow you to monitor and take note of what exactly your users are doing on the platform.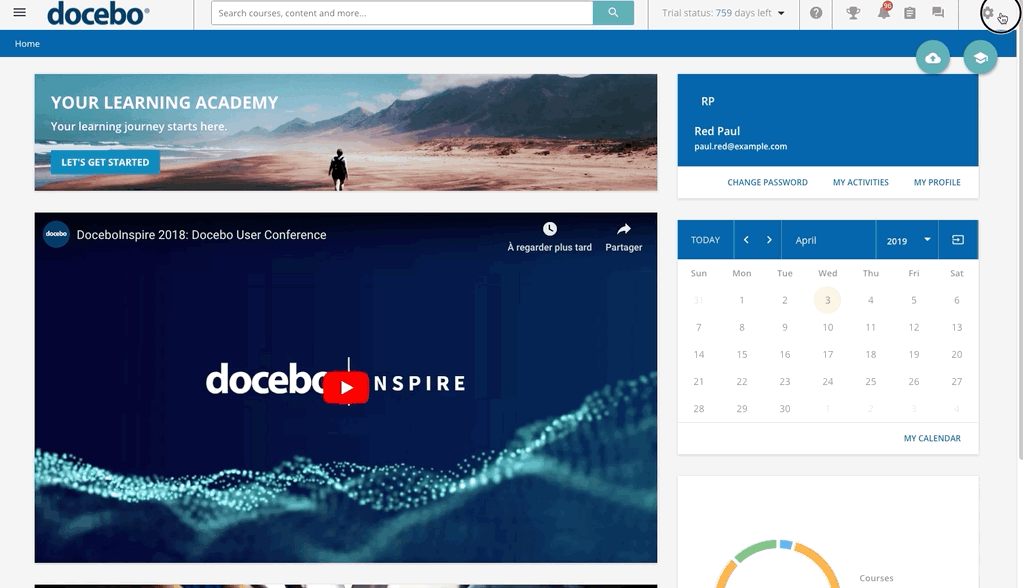 In this area, you'll find all the reports already available in the platform. You can also create custom reports to analyze specific information. Reports are vital for online training, as they allow you to monitor and take note of what exactly your users are doing on the platform.